Philosophy — Michelangelo Putting Greens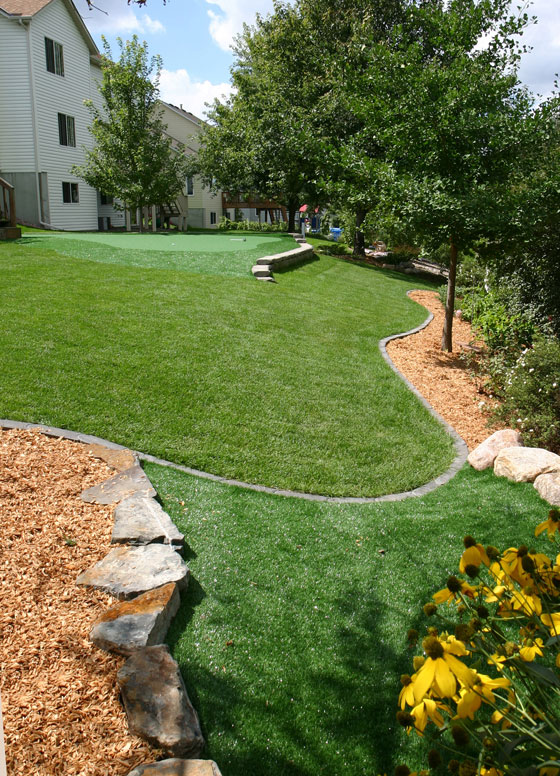 Michelangelo Putting Greens designs and creates stunningly beautiful synthetic putting greens, lawns and play areas for your home or business.
Because we realize what an important purchase this is for you and your family, we are inspired to build something truly special.
Your project will not be handed off to a bunch of subcontractors.
The founder of the company does all of the design work, and he is on site for the entire installation.
Appropriate Technology
Our nylon turf is like a carpet. While we do use sand to weigh the turf down, the sand never comes close to the top of the fibers. Since the golf ball only comes into contact with the turf the speed is very consistent—month-to-month and year-to-year.
Our putting greens do not use the old "Deep Sand Filled" turf. This turf, which is still used by some companies, has fibers that are 1.5 to 2 inches long and are filled all the way to the top with sand. While the tips of the turf fibers are visible, the golf ball actually rolls on the sand. This makes for an inconsistent putting surface. Initially, the fresh sand makes the green a bit too slow. Over time the sand settles and hits a good speed. Unfortunately, it keeps getting harder to the point where it is unrealistically fast and too hard to hold pitch shots. This cycle will take place during one Minnesota summer. Companies that use this type of turf will come out once or twice each year, at considerable expense, to loosen up your compacted sand and start the cycle over again.
You can experience our turf, fringe, bunkers and landscape capabilities at our demo green in Rosemount.
Minnesota's Number One Synthetic Turf Company